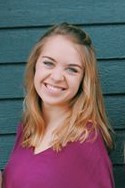 Morgan Theophil
Morgan is a senior journalism student at the SOJC, is participating in experiential learning through The Catalyst Journalism Project. Homeless youth on the RAN, which she reported as part of Instructor Kathryn Thier's solutions journalism course, has been published in Eugene Weekly. Theophil discusses her experiences with Catalyst and the process of reporting the story. (The interview has been edited for length and clarity.)
Morgan Theophil will graduate in June 2018 from the University of Oregon School of Journalism and Communication. She is from Eugene, Oregon.
Why did you want to take a course titled "solutions journalism"?
MT: I wanted to take a course titled "solutions journalism" because I was intrigued at the idea that solutions can be a part of the longstanding, authentic and objective goals of traditional journalism.
What's the most important thing you've learned about solutions journalism?
MT: The most important thing I've learned about solutions journalism is that it is as complex, rigorous, challenging and important as any of form of journalism. It brings light to the solutions in a way that can lead to change in the world and it is as vital as reporting on problems.
Why should your classmates take a course in solutions journalism?
MT: I would recommend solutions journalism to everyone. I think all journalism students should take the course because it will undoubtedly be a challenging yet rewarding experience. The class opened my eyes to the way journalism can go beyond basic reporting on the world's problems — this course is vital to all aspiring journalists. The class presents opportunities to look at and work on real stories that make a difference in society, challenges thinking in many ways and broadens perspectives on what it means to be an impactful journalist.
The solutions journalism course was full of meaningful assignments and valuable lectures that adequately prepared me to incorporate new and important skills into my work. The class was interactive, engaging, informative and fun. There could not have been a better person to teach the course — Kathryn Thier is a phenomenal instructor. Her passion for solutions journalism is evident. She works with students individually to reach in-depth understanding and success. She inspires every person in a room, and I am grateful to have learned from her.
How did the idea for your story develop?
MT: The story on 15th Night is about a new way of battling youth homelessness that is taking place in Eugene. Rather than creating another organization that provides a handful of important resources for those on the streets, a group of individuals used research that shows when an individual spends more than 14 nights on the street, they are far more likely to become chronically homeless. 15th Night works through a locally created technology: the Rapid Access Network. Trained individuals use this network to send "alerts" for a youth in need. The alert engages the many organizations in town to provide the youth with immediate help.
What were the most challenging aspects of reporting this story?
MT: The greatest challenge with this story stems from the fact it falls into the "big new idea" category of solutions journalism, meaning it is so new it does not have an extensive amount of data to mark it clearly as a "solution." Last school year was the first year that the RAN was in use, so the data is relatively new. Further, the creators of the group were the originators of the idea, so I had to make sure to write rigorous in discussing all aspects.
What do you hope a reader takes away from your story?
MT: I hope readers read this story and take away the knowledge that there are people in the world who are looking at the problems around them in new ways, and challenging the different solutions for them that may or may not exist. I hope readers are encouraged by what 15th Night is doing to reach homeless youth before they get to the streets, and I hope they decide to get involved in the movement and help.
What have you learned from participating in The Catalyst Journalism Project at the SOJC?
MT: The Catalyst Journalism Project is leading new journalists to go into the world with a new and important perspective — I believe it truly is sparking action and response to Oregon's most perplexing issues. Understanding the value of investigative and solutions reporting is powerful, and it is an honor to be working with the project.
Taking investigative reporting with Brent Walth was one of the most challenging and rewarding courses of my college career. His class taught me what it means to look at the world around you and question how something is happening, compared to how it should be. His class taught me the indescribable value of public records, questioning those in authority and making sure to look twice when something seems wrong. I learned that there is so much in the world that I do not know, and it was humbling to realize that through the lens of powerful journalism. Investigative reporting was a perfect precursor to solutions journalism, as the two are the perfect combination for figuring out the where the world's problems lie and then finding the ways people are seeking to solve them. He was, similarly to Kathryn Thier, an absolutely phenomenal professor. I am humbled to have learned from him.